A new world record for dead people?
You heard it here first
(or not)
As a prelude to 4th of July fireworks,

Scooter Madness 23

and the

Zombie Walk

competed neck and neck yesterday (07/03/2010) for top honor among Seattle's wild, sensation-filled events du jour.

Tall Ships

ran a close honorable mention. Click on this video link below to be

amazed

by true

Scooter Madness

, albeit totally unconnected to the

Scooter Madness

rally held this week in

Seattle

...
and then there be Zombies
The

undead

in Fremont

Nancy Bartley, a staff reporter with the Seattle Times said in the Times of the undead,

"They crawled from their crypts — their Beamers, Toyotas, Kias — and lurched through Fremont.

"Some dripped blood. Some dragged entrails. Some carried brains, playing catch with them as they waited in line.

"On Saturday, thousands of zombies stood outside the Fremont Outdoor Cinema waiting to register for the Red, White and Dead Zombie Block Party, the second such event in Seattle and one they hope will nab the world record back from Great Britain for the biggest gathering of zombies in one place. The promoters also hope to raise money for a food bank and encourage blood donations.

"Last year's gathering set a Guinness World Record, with 3,894...".
Tall ships ply the perilous waters of

beautiful South Lake Union
http://www.cwb.org/
The

Zombies

are about giving, the

ships

about majesty and

the

scooter-nuts

are just that... nutzo. Good, full throttle,

noble

nutzo.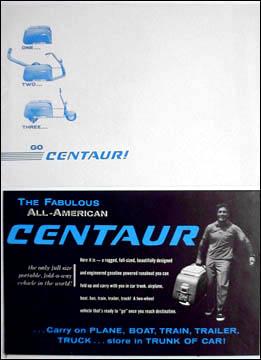 The Fabulous All-American 1962 Lombard Industries

Folding

Centaur Herd