These names are recognized by their state governments and the U.S. Post Office.
Nothing

is the name of another Arizona township.
Why
, Arizona is a small unincorporated rural community in Pima County.
The unusual name of the town comes from the fact that the two major highways
, State Routes 85 and 86
, originally intersected in a Y-intersection. At the time of its naming, Arizona law required all city names to have at least three letters, so the town's founders named the town "Why" as opposed to simply calling it "Y."
Show Low

, Arizona,
the commercial and tourism hub of the White Mountains, was established in 1870 and incorporated in 1953. Located in southern Navajo County at an elevation of 6,412 feet, the city is 175 miles northeast of Phoenix.
Monster fire at

Show Low
Show Low
received its name when C.E. Cooley and Marion Clark decided there was not enough room for both of them in their settlement. The two men agreed to let a game of cards decide who was to move. According to the story, Clark said, "If you can show low, you win." Cooley turned up the deuce of clubs and replied, "Show low it is."
Bullhead City

has a river passing it by. Across the river is

Nevada.
The town was originally known as
"Hardyville",
named after William Harrison Hardy, who worked as a postmaster, county supervisor and a member of the Territorial Legislature. When the railroad bypased the town, it quickly became a ghost town until the construction of the Davis Dam. The name "Bullhead City" is taken from "Bull's Head Rock," a rock formation along the Colorado River. Steam boats on the Colorado River used it as a navigation point. After the construction of Davis Dam, the water rose and now almost completely covers the landmark.
Grasshopper Junction, a wide spot on County Road 125, is in a rural area in

Mohave County, Arizona.
Lying four miles west of the town of
Chloride
, Grasshopper Junction
provides access to a lone surviving mining camp. The area features the
Grasshopper Junction
restaurant as a roadside attraction and has been the site of several murders.
The Radioactive Fallout.
In January 1951, the United States government established the
Nevada Test Site
, a
nuclear weapons
testing reservation located in
Nye County
,
Nevada
, about 180 miles (290 km) northwest Grasshopper Junction. During the 1950s, the
mushroom cloud
from these tests could be seen for almost 100 miles in either direction, including in the city of
Las Vegas
where the tests became tourist attractions. Between May 28 and October 7, 1957, the Nevada Test Site ran a series of
nuclear tests
called
Operation Plumbbob
. In 1958, the site carried out low-yield atmospheric and underground tests identified as
Operation Hardtack II
. As a result of Operation Plumbbob and Operation Hardtack, Grasshopper Junction became part of the June 22–26, 1959
hearings
before the
Special Subcommittee
on Radiation of the
Joint Committee on Atomic Energy
. At the time, the population of Grasshopper Junction was two, and the first session of the
86th United States Congress
determined that the estimated radiation dose received by the Grasshopper Junction population was 0.03
roentgen
(8
microcoulombs
per kilogram) before Operation Plumbbob (Pre-Plumbbob) and 0.03
roentgen
(8 µC/kg) after Operation Hardtack II (Cumulative).
The Murders.
From 1988 to 1991, Grasshopper Junction had a population of six, which included Dean Morrison and Jackie Appelhans as co-owners of a store and restaurant and their four children. Although their children had moved away by 1991, they were included in the population count. In May 1991, both Morrison (age 65) and Appelhans (age 60) were found murdered in their home. Brothers Robert and Roger Murray were each convicted on June 12, 1992 of two counts of first-degree murder and one count of armed robbery, and were sentenced to death. In October 1995, the sentencing was affirmed by the Arizona Supreme Court. In May 2008, Robert Murray's petition for writ of habeas corpus was denied.
Santa Claus is an uninhabited desert town in Mohave County, Arizona, originating in 1937.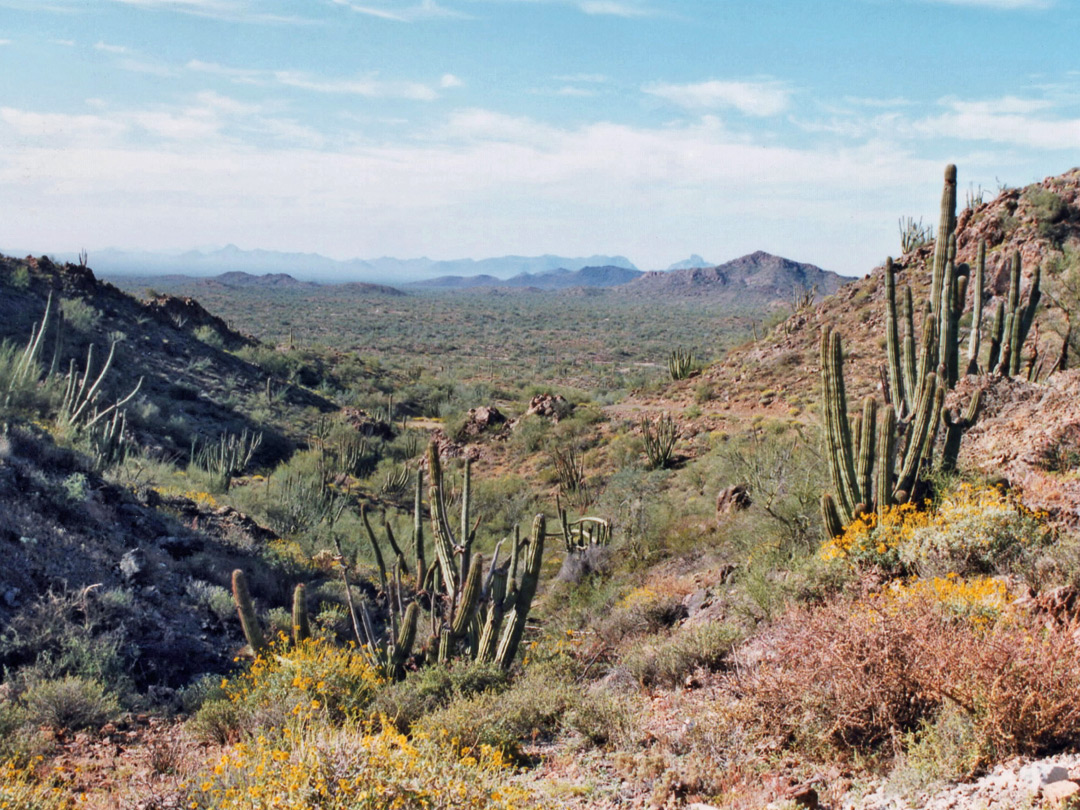 Organ Pipe

, AZ. Arizona Park is "Most Dangerous" in U.S.
The park rangers at Arizona's Organ Pipe Cactus National Monument wear camouflage, carry assault rifles, and chase drug smugglers through the blazing desert.
Many Farms

, AZ
Population in July 2007: 1,558.
| | |
| --- | --- |
| Males: 749 | (48.1%) |
| Females: 809 | (51.9%) |
| | |
| --- | --- |
| Median resident age: | 23.2 years |
| Arizona median age: | 34.2 years |
Zip codes: 86538.
Estimated median household income in 2007: $39,356 (it was $30,089 in 2000)
| | |
| --- | --- |
| Many Farms: | $39,356 |
| Arizona: | $49,889 |
Estimated per capita income in 2007: $13,411
| | |
| --- | --- |
| Many Farms: | $13,411 |
| Arizona: | $24,811 |
Estimated median house or condo value in 2007: $89,819 (it was $44,400 in 2000)
| | |
| --- | --- |
| Many Farms: | $89,819 |
| Arizona: | $237,700 |
Allen Street in 1882. The famous silver-mining town of

Tombstone

once had some 10,000 people and was the county seat.
Tombstone, Arizona, one of the most lawless mining camps in the American West, was soon dubbed "The Town Too Tough to Die."
The mining camp was born when a prospector named Ed Schieffelin looked out on the mountains from where he stood at Camp Huachuca, Arizona. Thinking that the rich colors of the mountains looked like a promising place to prospect, he commented on this to a nearby soldier. However, the soldier was quick to warn him that the area was controlled by Apaches and responded him "All you'll find in those hills is your tombstone."
1881 -
Wells Spicer, District Attorney, in a letter:
Tombstone has two dance halls, a dozen gambling places and more than 20
saloons. Still, there is hope, for I know of two Bibles in town."
Front Street, 1874.
Wyatt Earp.
The celebrated fame of Tombstone largely lies in the gunfight between the Earp brothers, with their friend Doc Holliday, and members of the outlaw gang "The Cowboys".
"You are under arrest for attempting to disturb the peace," Virgil announced. As senior officer, he displayed only a non-threatening walking stick, having given his shotgun to Doc to carry. The rustlers tightened and Morgan and Doc simultaneously braced for action. "Hold on, I don't want that!" cried Virgil.
What happened next was a blur, occurring in about 30 seconds. The shooting started when Billy Clanton
and Frank McLaury
cocked their pistols. It is not really known who fired the first shot, but Doc's bullet was the first to hit home, tearing through
Frank McLaury's belly and sending McLaury's own shot wild through Wyatt's coat-tail.
Billy Clanton fired at
Virgil, but his shot also went astray when he was hit with
Morgan's shot through his rib cage.
Billy Claiborne ran as soon as shots were fired and was already out of sight. Ike Clanton, too, panicked and threw his gun down, pleading for his life. "Fight or get out like Claiborne!" Wyatt yelled and watched Ike desert his brother Billy, as he ran towards the door of the photography shop. But, Ike then withdrew a hidden gun firing one more round towards Wyatt before disappearing. The sound distracted Morgan, enough so that Tom McLaury sent a bullet into Morgan's shoulder. Doc instantly countered, blowing Tom away with blasts from both barrels of his shotgun. Desperately, wounded and dying, Billy Clanton fired blindly into the gun smoke encircling him, striking Virgil's leg. Wyatt responded by sending several rounds into Billy. .
City Marshal Virgil Earp
Photo of John Henry "Doc" Holliday upon graduation from dental school.
"I found him a loyal friend and good company. He was a dentist whom necessity had made a gambler; a gentleman whom disease had made a vagabond; a philosopher whom life had made a caustic wit; a long, lean blonde fellow nearly dead with consumption and at the same time the most skillful gambler and nerviest, speediest, deadliest man with a six-gun I ever knew."
– Wyatt Earp
speaking of Doc Holliday
Though she was born to a prominent family, Big Nose Kate would grow up to be just one of the many "soiled doves" of the American West, as well claiming a small slice of fame as Doc Holliday's on and off girlfriend.
Big Nose Kate
The famous Bird Cage Theatre opened its doors on Christmas Day in 1881 and for the next eight years would never close, operating 24 hours a day, 7 days a week, 365 days a year. Also called the Bird Cage Opera House Saloon, the establishment featured a saloon, gambling parlour, theatre, and a brothel. In no time, the "theatre" gained a reputation as one of the wildest places in
Tombstone. so bad that the few self-respecting women in town refused to even walk near the place. The New York Times reported in 1882, that "the Bird Cage Theatre is the wildest, wickedest night spot between Basin Street and the Barbary Coast."
The hand painted stage, which once featured the likes of Eddy Foy, Lotta Crabtree, Lillie Langtry, Lola Montez, and Lillian Russell still stands, along with the orchestra pit and its massive Grand Piano.
Lotta Crabtree.
During the years that the theatre was open the wicked little place witnessed a number of gun and knife fights that took some 26 lives, and left 140 bullet holes in the ceilings, walls, and floors, many of which can still be seen today.
The theatre was called the "Bird Cage" because of its 14 crib style compartments suspended from the ceiling. Here, the painted ladies would pull the drapes and "entertain" their customers at some of the most exorbitant prices ever heard of in the Old West.
For one of these unfortunate souls, prostitution would not be her worst fate; instead she would succumb to one of the hazards of the business – murder. When "Margarita" was sitting on the lap of a gambler named Billy Milgreen, in flounced one of her co-workers, who went by the name of "Gold Dollar." Seeing Margarita on the lap of her best customer and "boyfriend," Gold Dollar stuck a double edge knife into her chest, intending to cut her heart out. Having almost completed the task, she was interrupted by the sounds of the marshal coming and ran out the back door. Covered in blood, she hid the knife somewhere out back. Because the murder weapon couldn't be found, no murder charges were filed. Amazingly, more than a century later, the stiletto was found behind the Bird Cage Theatre and is now displayed at the museum.