Hogmanay (pronounced IPA: [ˌhɔɡməˈneː] — with the main stress on the last syllable) is the Scots word for the last day of the year and is synonymous with the celebration of the New Year (Gregorian calendar) in the Scottish manner. It is, however, normally only the start of a celebration which lasts through the night until the morning of New Year's Day (1 January) or, in some cases, 2 January which is a Scottish Bank Holiday.
Sydney, Australia, leads the world in one of the first major New Year celebrations each year, due to time zone.
Sydney. Fireworks Newyear 2006. Opera House and Harbour.
Over 1.5 million people gathered around Port Jackson (Sydney attendance of 2 million people). The fireworks display last from 15 to 25 minutes and is followed by music shows set on several stages throughout the beach.
The Melbourne fireworks display as seen from Alexandra Gardens
Chinese New Year's Eve

in Meizhou, Guangdong, PRC.

(also called Lunar New Year or Spring Festival. Lunar, not Gregorian calendar)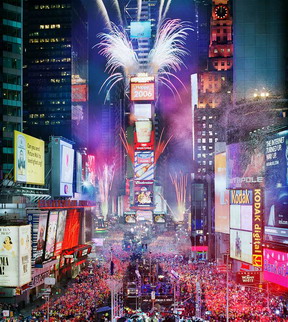 New Year's Eve in Times Square, New York, NY.
New Year's Eve Ball in Times Square.
Bigger, better and brighter than ever.