UK RESIDENTS outraged by plans to cull some 6000 camels are warning other Europeans against visiting Australia.
Online discussion forums, which describe Australia as a Third World country, have been running hot since it was revealed last week that residents in a small central Australian community were being held hostage by a herd of thirsty, marauding camels.
The Northern Territory government announced last week it would conduct an emergency cull of some 6000 feral camels at a cost of $49,000.
NT Local Government Minister Rob Knight has since received hate mail from around the world.
Docker River, 500km south west of Alice Springs, has been inundated by thousands of wild camels in recent weeks.
As well as smashing water infrastructure in their hunt for moisture, the quality of drinking water in the town is being threatened by the decaying bodies of camels that have been trampled by their herd.
The UK Times Online last week posted a story* about the camel seige, which prompted an influx of public comment.
One blogger suggested spending the $49,000 to build a water hole for the camels, rather than herding them out of town by helicopter to slaughter them.
"The animals that live here alongside us deserve respect and if we can help them live, what is so wrong with that?" K Jordon wrote.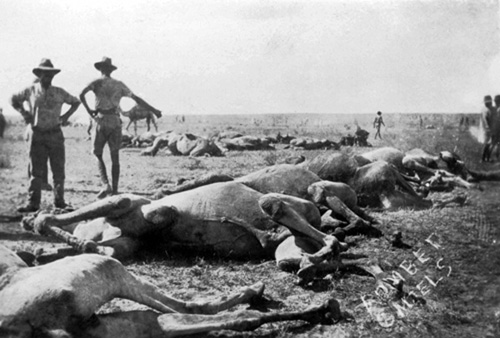 Many comments state that Australia is not worthy of G20 status, while others claim Australians have a chip on their shoulder.
"Please tell all your friends that Australia is the worst nation on earth and they should stay away," William Burt wrote.
"Yet further evidence, if any were needed, that Australia is a Third World country with a standard of living markedly below even the worst in Europe," John Spurway said.
One person from Germany wrote to Mr Knight last week, saying he was "outraged and shocked" by the government's plan.
"So 6000 innocent, gentle creatures have to die for only 350 humans?" he wrote.
Baby Camel Victim (Veal?)
"To me, these creatures have the same right to live under God's sun and drink his water as any other, including the human species."
The comments mirrored similar attacks made on US television earlier this year, calling Prime Minister Kevin Rudd a "serial killer" for culling camels in remote Australia.
The talk show host called the cull "genocide" and used a stuffed camel toy to demonstrate how the animals would be killed.
Toy Camel
Despite the backlash, not all correspondence to Mr Knight has been critical of the decision to cull.
One man from Tanzania said he was an "avid large game hunter".
"I would be more than happy to volunteer my time and knowledge for the culling effort to assist your area," he wrote. There are about one million feral camels throughout Australia, with numbers doubling every eight or nine years.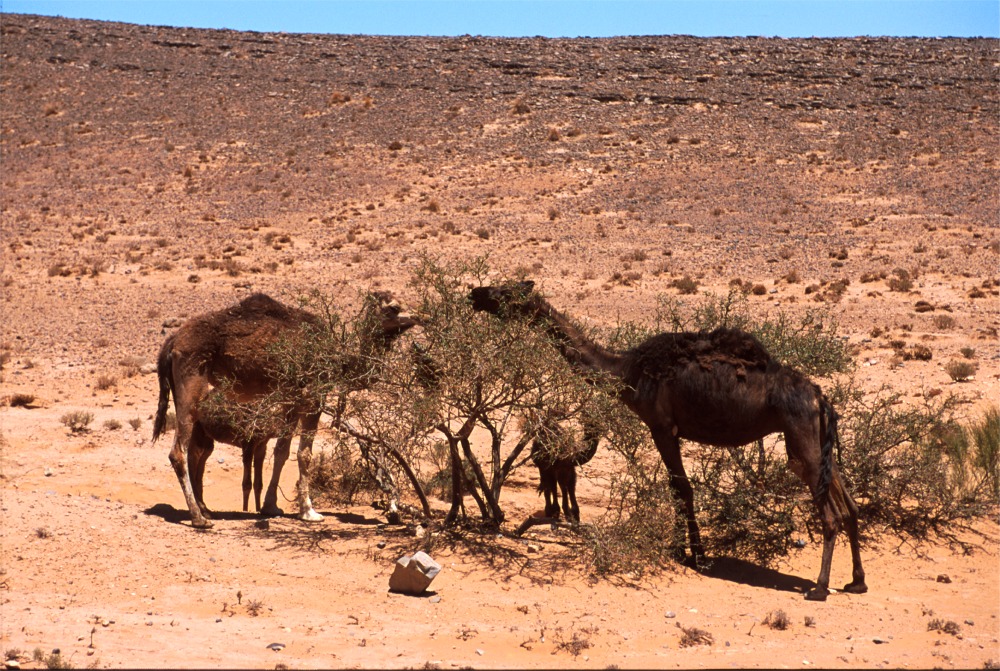 Real Camels ---------------------------------------------------------------------------------------
Feral camels terrorise Australian Outback community
An Australian Outback town is under siege from thousands of feral camels that have invaded the area in search of water.
Up to 6,000 of the animals have caused chaos in the Northern Territory town of Docker River, trampling through homes, breaking water tanks and disrupting the emergency airstrip.
Rob Knight, the local government minister for the Northern Territory, said that the situation was critical and he had allocated A$49,000 (£27,000) to address the problem. "The community of Docker River is under siege by 6,000 marauding, wild camels," said Mr Knight. "This is a significant community, some 350 people. They have come right into the community, smashing infrastructure, so it's become a critical situation.
"There are health issues. There are camels being trampled, and carcasses. They are smashing over water mains and intruding on the airstrip, causing problems with medical evacuations."
Graham Taylor, chief executive of the MacDonnell Shire Council, which is responsible for Docker River, about 310 miles (500km) southwest of Alice Springs, said that the camels began arriving about five weeks ago, but their numbers had grown dramatically. He said many in the Aboriginal community were terrified, and had locked themselves in their homes. Some children, keen to go outside and play with the animals, were in danger of being trampled by the herd.
Mr Taylor said that the camels were so desperate they had broken fire hydrants and drinking troughs, and some had resorted to licking drops of water from the evaporation cooling systems on the roofs of houses. "Some people are opening their windows and all they see is camels," he said.
"What seems to be happening is that they are coming into the town looking for water for four or five days. They have a drink, and they linger . . . and more and more keep arriving. The numbers are building daily."
Mr Taylor said that the emergency money would fund helicopters and crews to herd the camels ten miles out of town, where they would be shot. This is expected to start within the next few days.
Wild camels are a problem in central Australia, where more than a million roam. In July, the federal Government allocated A$19 million to control the animals, including a widespread cull.
Few poms, nor U.S. talk-show hosts, nor media scribes have been known for their swift intellect...
Camel meat is Low in cholesterol; high in protein and it is similar in taste and texture to beef.
Camel meat is prescribed good in the Australian Quarantine and Inspection Service Meat Orders. The National Heart Foundation of Australia recognizes camel meat as a health food.
It is becoming more popular in the Meat market chains in all the world. Consumed in many countries Middle East, Africa, Australia and Asia and now in Europe.
I too am outraged, by the apparent waste of good meat....
Here is a chance to start a discussion on this earth-shaking issue within the "comments" section below.
Do you agree with the Australian government and me that delicious camel meat is an excellent heart-healthy, lean substitute for beef, or are you among the insufferable ning-nong members of the P.E.T.A. terror organisation and the pommies?
Speak up! Your opinion is prized here as excellent fodder for derision...
ADDENDUM
Reality Stars Charged for Killing Rat
An Aussie TV chef and a soap opera actor have been
charged with animal cruelty for killing and eating a rat
in the British edition of
I'm a Celebrity … Get Me Out of Here!
The show is
filmed in Australia,
and authorities there say the two didn't have permission to kill the rodent to spice up their meal. W.T.F.?!?!?! Do I need permission to kill
anything
for food? Even in Australia the are some proper muttonheads misusing authority! ALWAYS QUESTION ATHORITY! Read all about it at the link here. Cut and paste to address bar.
http://tinyurl.com/yzea9vf