One of the worst movies of 1995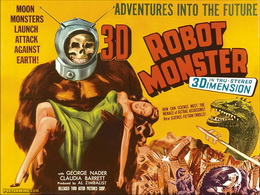 Click above to view

sultry beauty

in clutches of

half-crazed monster

trailer
The
worst movie of 2009, for which Sandra Bullock received her first

Razzie

. She also received an Oscar for a different role in the same year!
A disaster of its own, hailed by many as the worst movie of 2008 and nominated for six

Raszzies
Click for the clip
$110 million to produce and market, but earned only $7.1 million at the box office
This trailer doesn't seem all

that

bad to me....
About The Conqueror.
Starring:
John Wayne
,
Susan Hayward
,
Pedro

Armendariz
. In the historical epic The Conqueror, John Wayne stars as

Temujin

, better known as Genghis Khan. Red-haired Susan Hayward costars as

Bortai

, the Tartar princess whom

Temujin

claims as the spoils of battle. Eventually,

Bortai's

hatred for her captor metamorphoses into love, while

Temujin's

hordes lay claim to the entire Gobi Desert. Director Dick Powell, many of the actors (John Wayne, Susan Hayward, Pedro

Armendariz

, Thomas Gomez, Agnes

Moorehead

), and several of the crew members later fell victim to cancer, allegedly the result of producer Howard Hughes' decision to lens the film on location near the atomic testing grounds in the Utah desert. ~ Hal Erickson, All Movie Guide
Catwoman
was cited as the worst superhero movie and won four

Razzies
Universally panned by critics and moviegoers,
Battlefield Earth
:

A Saga of the Year 3000

is a 2000 American film adaptation of the novel
Battlefield Earth
by L. Ron Hubbard. Coincidentally, John Travolta is a
Scientologist
, a
pseudo
-sect founded by Hubbard...
Howard the Duck
won a
Razzie

Award for Worst New Star
Manos

: The Hands of Fate

has an opening nine- minute sequence in which nothing much happens but endless driving through the countryside, due to the opening credits being left out.
Added to Quicklis
"Manos: The Hands of Fate" - Review - Part 1/3 ..
"Manos: The Hands of Fate" - Review - Part 2/3 ...
"Manos: The Hands of Fate" - Review - Part 3/3 ...
Ed Wood's
Plan 9 from Outer Space
was hailed by
The Golden
Turkey Awards
as the "Worst Film Ever."
This is the trailer for

Plan 9
and click here to see the entire 78 minute film!
The cast says it all, Morrow and

Corday

being the most

gawdawful

actors to ever "perform"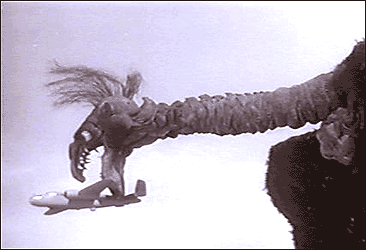 Here

The Giant Claw

feeds on an airliner! Amazing pre-

Muppet

special effects!
1953 masterpiece from Ed Wood
The world's best-ever 10 minute trailer. You actually are treated to see Bella Lugosi sit and stare... Very profound!